New URL! Please update your links and bookmarks.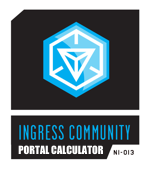 Ingress portal calculator
Ingress limits the number of resonators that can be placed per portal per player, so you must work together with other players to build higher level portals.
Use this page to quickly calculate the maximum portal level, range and energy for 1-8 Ingress players and show the resonators used to achieve this level.
Just enter the number of players available and their levels below. New: Added hypothetical levels above level 8.
---
© 2012-2013 Sven Neuhaus. All rights reserved.
Ingress is © 2012 NianticLabs@Google.
Portal range formula courtesy of DeCode Ingress